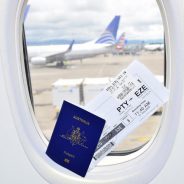 Booking flights can either be impulsive, or carefully planned out, and years in the making. But either way, it's something that almost every traveler will have some degree of experience with.
After 10 years + years of travel, booking flights has become close to second nature, though even as a frequent traveler, there are a number of things you really need to consider before clicking that final purchase icon on your screen. In some cases it could be a real money saver, in others save you from a nightmare flight.
So whether you're a first time traveler, or a frequent traveler who often makes bookings without stopping to think, make sure you consider the following five things.
read more