The tulips in Tasmania were late this year, but once Table Cape exploded with color, it was certainly worth the wait. A tulip farm atop a 12 million year old volcano, acres of patchwork fields fly into a rage of color each spring.
Unsurprisingly, people come from far and wide to see this spectacle, and delight in wandering through the farm. In fact, these are the largest tulip fields in the Southern Hemisphere that you can actually wander in.
Colors of Tasmania's Tulip Season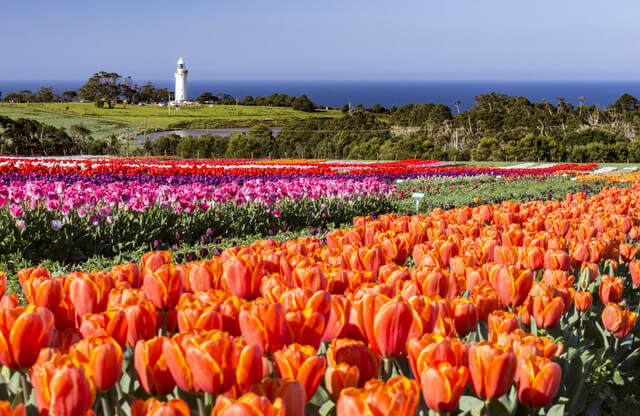 Table Cape, Tasmania
'The magnificent plateau of Table Cape is by far Wynyard's most remarkable natural wonder.' Sitting at 180 meters high, this extinct volcanic vent dominates the coastline close to Wynyard in Northern Tasmania.
The volcanic soil on the cape grows a variety of crops and is regarded to be the richest agricultural soil in Tasmania. Its dramatic cliffs drop away into the Bass Strait, with Table Cape Tulip Farm perched at the top.
The drive to the top offers spectacular views of Tasmania's coast and agricultural farmlands, though during late September through mid October these transform to showcase a vista of colourful blooming fields. It's a lure for photographers, and is one of the most stunning tulip displays in the world.
Visiting Table Cape Tulip Farm Tasmania
A narrow road winds its way up the volcano, and then the entrance to the farm is on your left as you reach the plateau.
After you've walked through the tulip fields, don't leave yet! If you continue past the farm, the road forks; continue straight and you'll end at a viewing platform which dangles precariously on the edge of the cliff, with stunning ocean views; turn left and you'll end at Table Cape Lighthouse, a historic landmark dating back to 1888.
With narrow roads, and active traffic, it's impossible to pull over to the side of the road. Though there's a private driveway right at the fork which we decided to use for a 5 minute photo opp. With an elevated diagonal view over the tulip fields, this was the perfect spot! (Though I should stress that this is not a parking spot, so don't leave your car). Wynyard tulip festival. 
Fields of purple Dutch Iris in the foreground, and vibrant rows of Table Cape tulips in the back is a sight that will leave you breathless. So be sure to add a trip to Wynyard and Table Cape to your itinerary this spring!
Practical Information
Table Cape is a working farm which operates all year, though the tulips bloom from late September to mid October. 2017 season runs until Sunday 29th October. The tulips were late this year, though regular updates are posted on the Table Cape Facebook page. Tulip farm Table Cape. 
The farm is open from 9am – 4.30 pm every day, and charges $12 for adults, $10 for seniors / concessions, $8 for students, and children under 16 are free. This is a real farm, so we recommend wearing appropriate footwear.
There are hectares of tulips to walk among, as well as an impressive indoor display featuring floral arrangements, souvenirs, Devonshire teas, an art gallery, potted tulips, cut flowers and information on growing bulbs.
Access to Table Cape itself is free, and you can drive around, visit the lighthouse etc as you please. Wynyard is a 50 min drive from the Spirit of Tasmania port at Devonport, or you can fly direct from Melbourne to Burnie Airport (located in Wynyard) with Regional Express. Table Cape Tasmania tulips. 
Bloomin' Tulip Festival
The Bloomin' Tulip Festival has been running for 25 years, and is a day of festivities in Wynyard for one Saturday each October during the tulip bloom. The town buzzes with activities, food, music, artists and festivities.
The farm is a central part of the festivities, though surprisingly wasn't overrun with visitors; everyone seemed to be celebrating in town. So while it may defy regular logic to visit the tulip farm on the day of designated festivities, with everyone else distracted in town, it's a pretty good time to head to the Cape.
Things to do in Wynyard
A relaxed seaside town at the mouth of the Inglis River, Wynyard is a popular holiday spot for summer beaches, ocean and river fishing, and lazy drives through picturesque landscapes. Where are tulips in season in Australia. 
For things to do in Wynyard, we recommend renting a car to explore the small villages dotted along country roads behind town. Each drive offers views of beautiful patchworks of green, gold and brown farmland. Tulips Australia. 
Wynyard Tasmania attractions include cafes, shops, and places to stay (choose from campsites, backpackers and riverside motels), as well as the Foreshore Market which runs on the first and third Sunday of every month.
Next to the Tulip farm, we particularly enjoyed Fossil Bluff, which we would recommend visiting on the way down from Table Cape. This is a stunning gold sand beach with green rolling hills to one side, and sheer sandstone cliffs. The cliffs are over 275 million years old, and offer a rare insight into fossils. You can see and touch several hundred different types of fossils preserved in the rocks. See how many you can find! The tulip festival. 
OUR FAVORITE TASMANIA TRAVEL GUIDES! CLICK TO LOOK INSIDE ↓
INSPIRED?! PIN THIS TO YOUR TRAVEL PINTEREST BOARDS ↓
If You Liked This Post You May Also Like:
Photo credits: Tulips looking over Table Cape Lighthouse by Steven Penton. All other photos by Mapping Megan. Tasmania flower festival. Tulip festival Australia. Tulip festival dates.