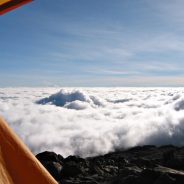 When I mentioned to family and friends that I planned to climb Kilimanjaro, the overwhelming majority laughed. Not in a malicious way, but in a "you over-estimate your abilities" type of way.
And honestly, to begin with, I didn't really care if I climbed Kilimanjaro or not. I was going to be in Tanzania, the mountain was going to be there, and I had read a feature about Thérèse Rein and vaguely remembered that the climb was something you could brag about having done (I still use it as a sticking point on my adventurous resume to this day).
But for my original indifference of whether I completed the climb or not, the decision was made when I was told "it's a lovely goal, I just don't think you'll get to the top." And honestly, I thank every single person who said this to me. Because this was the motivating factor which got me to the top. Come hell or high water (I did trek through hell, just not high water!), I was going to prove every single one of them wrong.
I often write about what travel has taught me, and how travel has changed my perspective on life. However a lot of my transformation happened on that mountain top.
read more