It's not my ideal way to begin a blog post by making reference to my age, but there was once a time where you would head out into the world with your camera, and a roll of film which had 24 exposures. This meant you had the opportunity to take 24 photos total (obviously you could travel with more than one roll of film though).
You would arrive home, have them developed, and add them to a photo album which you would have handy to pull out every now and then. But these days, find me someone who doesn't return home with hundreds, if not thousands, of photos.
With the ability to take such a vast amount of photos these days, even our great photos end up suffering a pretty sad fate. You might Instagram or Facebook them, but for the most part, they sit quietly forgotten in a digital folder or harddrive. They fade away.
So we've come up with some ideas for bringing your photos to life in this modern age, and actually using them in the everyday. You can easily use free sites like Fotor.com to create amazing graphic designs these days, so there's no excuse to let your photos disappear into cyberspace!
Fabulous Ways to Actually Use Your Travel Photos
Print Them
One of the best ways to actually use your travel photos is to print them! There are a huge range of websites these days which will put your photos on just about anything; T-shirts, mugs, passport holders, even toilet paper – if you can think it, there's likely to be a company who will print it!
But without getting too carried away, something as simple as printing your photos to put in an old school photo album, to hang on the wall, or maybe even become the wall (you can blow your photos up to buy as wallpaper) are all fabulous ways to use your photos in the everyday.
If you want to add text, or create a beautiful design before you print, there are free and easy to use graphic design sites like Fotor. It's a one stop shop for quick and easy photo editing and design, and with its help you can do it all – edit your photos, apply filters and effects, crop, add a vignette, blur, sharpen, rotate, add text, remove red eyes, and so much more. And the best part is, it's super straightforward.
Travel Shots Printed on Canvas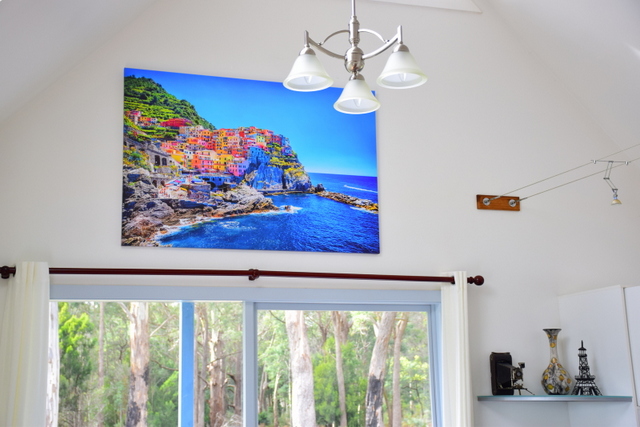 Social Media Covers / Channel Art
Sure, you've probably shared your favorite travel photos to Facebook, but as time goes by they get lost and buried among the rest of your moments and posts. But a Facebook cover is something you'll see everyday, and something others will see every-time they stalk you!
So why not pick one of your favorite travel photos to display. If you're trying to figure out the optimal size, Fotor has stunning templates for social media posts, and has already sized Facebook Covers, Youtube Channel Art, twitter covers, instagram posts etc for you. It makes it super easy to customize a design in the correct size.
Cards
Creating your own cards can be an awesome way to use your travel photos, and it makes it a lot more personal for the person on the recieving end than a faceless $5 card you've pulled from the newsagency.
Maybe you visited Santa Claus in the Arctic circle when you were last in Finland. Or perhaps you have photos of the ball dropping in Times Square on New Years. Whether it's a thankyou card, or something for an anniversary of birthday, make something genuine, and add your own flair.
Don't be intimidated by creating a card; you can make it look just as awesome as the gift shop versions with the free templates and easy design / photo effects. Click on the option for "Cards" under "Events" on Fotor, and there are a huge range of free templates, designs, and color schemes. Drag and drop your own photos, and personalize your text. It's cinch!
The awesome thing to is that the templates here are constantly changing to be relevant to the time of year. There are Valentines Day templates in February, Christmas templates in December, and a great search bar to find the occasion you need.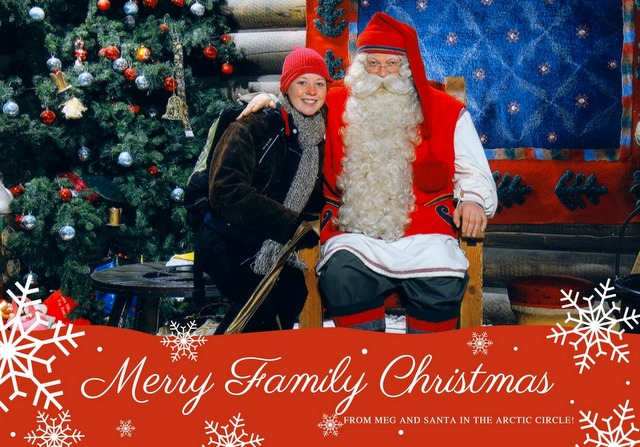 Invitations
We created our own wedding invitations, and it was actually a huge hit! We were having a destination wedding in Hawaii, so the travel theme really fit. We were able to make the invitations look really professional using free templates already designed, and it was a lot cheaper going the route of DIY.
But maybe you're having a birthday party, sending a save the date, or even a game night. Use your travel photos to create unique invitations; it's such a cool feeling to say "yes", when some-one asks "did you take this?".
Postcards
Everyone loves receiving postcards, but better yet if your photo is on it! Sending postcards is an incredibly personal thing, and unlike posting a faceless photo to Facebook or Instagram, receiving a postcard tells someone that you're genuinely thinking about them. 
And this is a great way to use your photos, because they really last! Think about it; when you send a Facebook message or email, do people save and treasure it? Do they print out your tweet and stick it to the front of their fridge? Do they pass it around their friends and family? No. But they do that with a postcard. Because it's more exciting. More thoughtful. More interesting.
There are many sites now which let you upload your photo and a personalized message, and will then print and mail them for you, and these can be a really great souvenir. Design something awesome and then upload it to send via an online postcard site.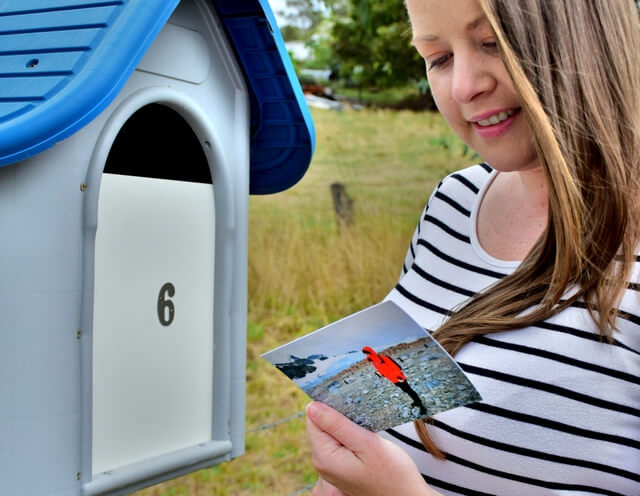 Fotor Design
Despite being free (you don't even have to register), Fotor is a powerful tool which is loaded with professional editing features and templates for amazing graphic design. You can use it to super easily create social media covers, cards, invitations, or whip up a custom design.
There are stunning templates for just about everything, with a wide range of pre-designed photos of different sizes and high resolution. You can customize any template with your own images, drag and drop the stickers, clip art, and change the font / size / position of the text.
CAMERA GEAR WE USE & RECOMMEND. CLICK TO VIEW ON AMAZON↓
INSPIRED?! PIN THIS TO YOUR TRAVEL PINTEREST BOARDS ↓
If You Liked This Post You May Also Like: