For anyone with a severe case of the travel bug, you likely spend your day-to-day fantasizing about exotic holidays; snorkeling alongside whale sharks in the Maldives, watching the sunset over the African plains, riding a camel through the desert backed by the pyramids of Giza.
But it's one thing to be inspired to travel to Egypt, and another thing entirely to start planning your own trip. Social media inspires wanderlust, and Instagram feeds our never ending bucket-list, but how did that traveler who you've seen on camelback actually get to Egypt?
Which hotels did they stay at, which restaurants did they visit? It's great that their photos have inspired us, but if only we had access to their whole itinerary. Wouldn't that make travel planning easy!
Travel Planning Made SUPER Easy: Use Tripfocal For Free Access to Other Traveler's Itineraries!
Phase One: The Insta Inspiration
Phase Two: Getting Their Full Itinerary
There are a lot of trip planning websites out there, though very few are truly unique. So it's always exciting to discover a platform like Tripfocal.com, which takes an approach to travel planning in a way that other websites haven't thought of yet.
Tripfocal, whose motto is Real Trips, by Real People with Real Advice, is a user generated trip planning website whose success is predicated on travelers around the world adding their trips to the site.
It's essentially a database of itineraries from real people, who have really taken the trip, and, the best part? Everything is free! The platform is designed on the concept of sharing; I upload my favorite itineraries to help other travelers in their planning, and they upload their itineraries to help me.
The platform has only recently launched, though if I had to make a prediction, I would say that itinerary sharing is the travel industries next biggest trend; with Tripfocal being the center of the revolution in travel planning!
I'm uploading my travel itineraries free to #Tripfocal. Share yours too to make travel planning easy for everyone!
Click To Tweet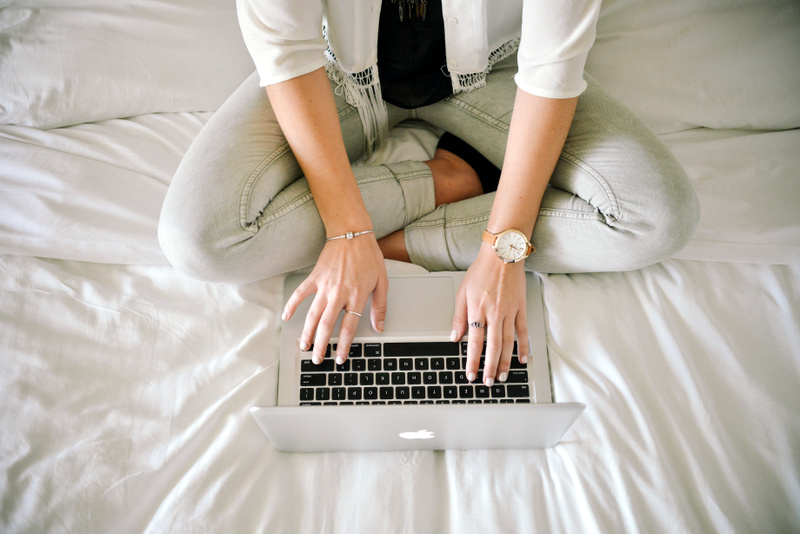 About Tripfocal
The genius of a platform like Tripfocal is in it's simplicity. I spoke with the CEO Scott Greene who came up the idea and his rationale was quite simple. While planning a trip to Europe with his family he wanted to find itineraries of how other families had traveled.
Very simple, right? Except this doesn't exist.
There are sites that provide pre-set itineraries, but how did an actual family travel to Europe, or to the Caribbean or Asia? Accommodations, restaurants, activities?
Sure, you can run online searches to try and find personal recommendations via a blog, but wouldn't it be better if there was one centralized place to go for real itineraries? Thus, Tripfocal was born.
User Experience
Finding Itineraries
While Tripfocal is in BETA right now having only recently launched, the idea is fabulous, and it's going to be an incredibly valuable tool. It's very user friendly and easy to use, with a sleek, modern design and literally zero learning curve.
Registering an account takes all of 30 seconds, and you're then brought to an explore page with a "create a trip" button on the upper right of the page. You can search for other traveler's itineraries from this page too, filtering by destination, travel style, season, and budget.
When you find a fabulous itinerary you want to copy, you can book hotels directly through Tripfocal as they have partnered with booking.com to make sure you get the lowest price. Over the course of the year they plan on adding some of the top names for direct bookings including Musement, Momondo, Klook and Homeaway.
They are now partnering with Homeaway and will be integrating their API soon so not only will you easily be able to add that great condo or villa you stayed in but you will be able to rent through Homeaway right from Tripfocal.
Search for an itinerary … mine is the first for Tasmania

Book the trip via Booking.com Directly on Tripfocal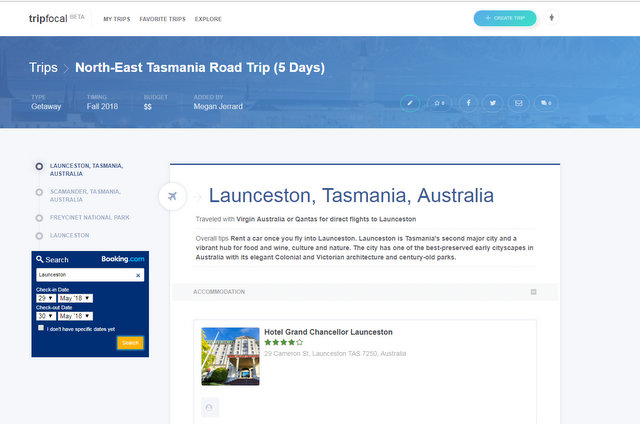 Adding Your Own Itineraries
Adding your own itineraries is crucial to the goal of Tripfocal, and this is super straightforward and easy; also very fun re-living past trips and remembering the details! When you hit "Create a Trip" you fill in details of the itinerary name, type, season, and budget, and can choose a cover photo.
You then add the destination/s that make up your trip, and the hotel, restaurant and activity information to each day. Google places is utilized to easily add hotels, restaurants and activities.  Even if you don't remember the whole name, just enter part of it, and it comes up with an easy button to add to the itinerary.
Of course not everyone stays in a hotel so you can click on customize and add your Homeaway or AirBnB link. And there's a section to add further notes if you want to. For instance, my 5 day Tasmanian Roadtrip itinerary included two nights at Freycinet Lodge – my additional notes were to choose a Coastal Pavilion over other room types.
You can adjust your itinerary suggestions very easily too – if you add something to the wrong day, there's a button that lets you move it to a different day. You can go back in and edit any of your individual recommendations; it's a very practical and straight forward system. Works exactly as you would expect it to!
Screenshots
Adding a Destination

Adding Hotels / Activities with Google Search

What it Looks Like Once Added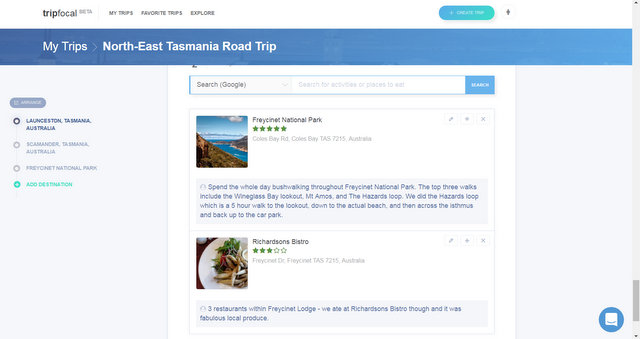 Current Itineraries
Being that the site is brand new, the first thing I noticed is that there aren't currently a lot of itineraries, except for some trips that the co-founders added (and now from me!) Scott told me that to be true to the objective of the site the trips need to come from travelers around the world.
While I love the concept and have no doubt it's going to be successful, tripfocal needs its fellow travelers to take no more than 5-10 minutes and start adding their trips – you will soon realize the true value of this site for trip planning.
To encourage travelers around the world to add their trips they are running two great promotions, easy money for very little work!
Current Promotions
➡ Add 2 trips and receive a 10% discount code to Triple.co. Triple enables tourists to feel like locals when they travel, discover hidden gems of the city with private activities and tours. Check out Triple.co.
➡ Add 3 trips, and receive up to $25 when you book a hotel on their site, they will return their commission to you!
So far the best piece of advice I found – there is a fruit stand at the corner of Grosvenor and Oxford streets, a block away from the Marriott that Scott and his family stayed in in London – cheap and healthy snacks for the kids.
This real advice from a real traveler is what makes Tripfocal.com a fantastic new trip planning site to check out!
THESE BOOKS WILL INSPIRE YOU TO TRAVEL! ↓
INSPIRED?! PIN THIS TO YOUR TRAVEL PINTEREST BOARDS ↓
If You Liked This Post You May Also Like: