Coral reefs are one of our planet's most unique beauties, a must on any travel bucket lists. Their gleaming vivid colors and the explosion of shapes and sizes fascinate onlookers and provide an idyllic habitat to countless species.
Sadly, more than 50% percent of corals that once existed are now dead, due to a range of factors including the warming of ocean waters, overfishing, sedimentation, pollution and bleaching. Up to 70% of the world's reefs are expected to die by 2020, and be almost extinct by 2050 (more than 90% dead).
This will mean extinction not only for the corals, but also for around one quarter of the Earth's species (marine animals and fish that only live in coral reefs), and have worrying affects for the billion odd human beings who rely on them to provide a buffer against waves, storms, and floods.
So conservation efforts to preserve what's left of the world's reefs are of vital importance. In terms of reviving coral reefs, according to ReefNation.com, scientists have begun researching the viability of transplants (similar to human ones), but haven't confirmed whether this method is realistic yet.
Explore the Beauty of Coral Reefs in 5 Unique Trips
There are many ways in which you can visit a coral reef and admire its breath-taking beauty, while you still can. Tourism to coral reefs around the world happen in a highly supervised manner so that our presence doesn't further contribute to their extinction.
The following are five unique trips which will allow you to explore the true beauty of the world's coral reefs.
Buck Island, United States Virgin Islands
One of the best places to explore reefs in the Caribbean, Buck Island is very popular with snorkelers and divers of all backgrounds.
Its marine garden is beaming with bio-diversity, and you can also admire unique species on its beaches. The brown pelicans and the hawksbill turtles are some of the island's surface attractions.
How to Get There
It's easiest to access Buck Island from the U.S., through the tours organized by Caribbean Sea Adventures or Big Beard's Adventure Tours.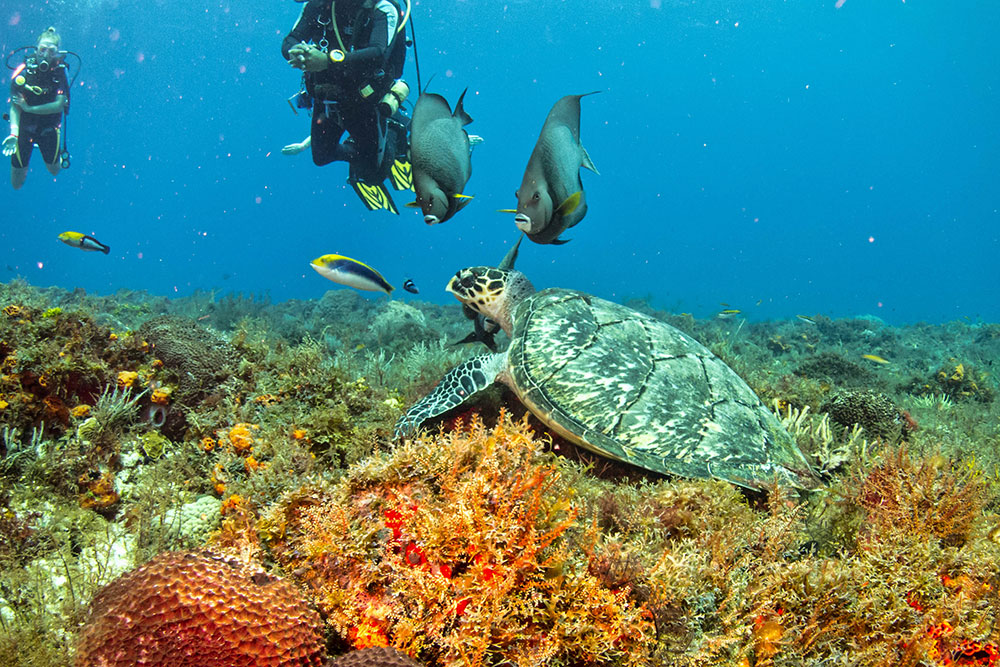 Photo © James Kelley
Cape Verde Islands, The African Coast
Still not overcome with tourist hordes, Cape Verde is a great place to visit not only for the reefs, but also for the food, music and culture.
The former Portuguese colony is one of the most fascinating places on Earth, and the lava shoal coral reefs are as exciting as a reef can be: many have formed around shipwrecks, there are also underwater caves to explore, as well as unique species of animal life to be admired.
Furthermore, if you can visit Cape Verde in March and April, you are in for an extra treat: humpback and gray whales are making their yearly migrations at this time, offering a breathtaking view.
How to Get There
TACV is the national carrier of Cape Verde (also known a Cabo Verde). Most international flights land on Sal or Santiago, though there are also international flights arriving in Boa Vista and São Vicente.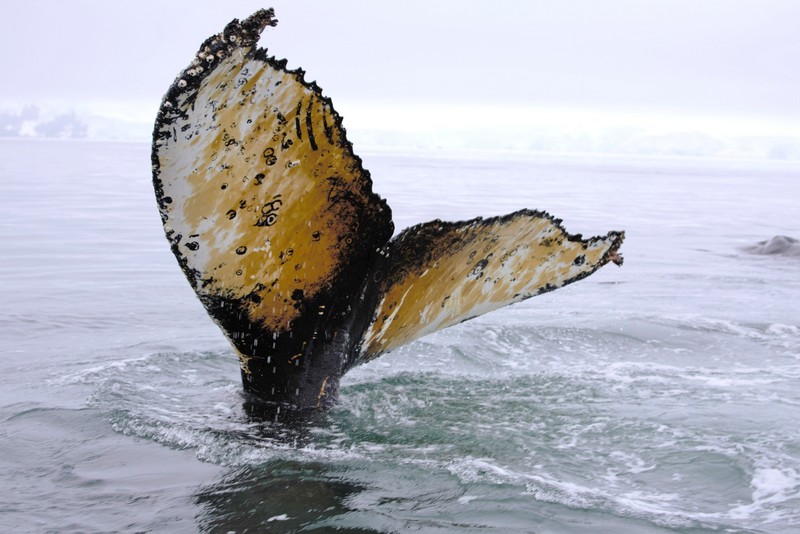 Tumbalen, Indonesia
Considered to be one of the world's most diverse coastal environments, this island destination of Indonesia has become a tourist's paradise.
For the best coral reef sights, tours will take you a bit offshore from the Lombok Straight harbor and from Amuk Bay coast. For best access, make your base in the Candi Dasa, a small resort town where you can hire many storefront operators for diving.
You can go snorkeling for a chance to admire the reefs up close or observe the surface marine species that make the islands their home.
How to Get There
Visibility is best during April to July and October to November, so we recommend travel at this time. Day trips can be taken from Bali, and the best way to get there would be to fly into Bali's airport, Ngurah Rai International Airport.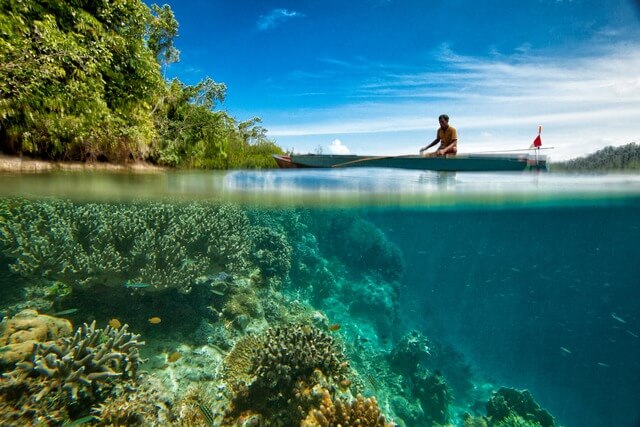 The Great Barrier Reef, Australia
It's one of the most important coral reefs in the world and perhaps the most spectacular. It's so big you can see it from the moon (no kidding!).
The best views are reserved for Green Island and Beaver Cay, accessible by boat from Mission Beach (south of Cairns). The fascinating marine life of the area can be visited and admired by snorkelers across vast areas; the shallow waters are welcoming, and the visuals are spectacular!
How to Get There
It's best if you set your base in the Whitsunday Islands. Local diving operators can then take you to the best sight-seeing spots for the reef.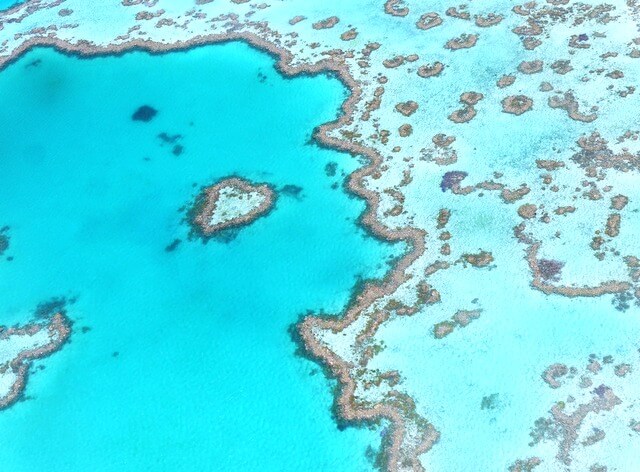 Cozumel, Mexico
Another great spot for coral reef gazing is Cozumel, conveniently located in the western hemisphere and, thus, easy to access from the U.S.
The spectacular coral reefs here are built up by the strong (but navigable) currents, and the variety of colors is stunning. The underwater geography is also spectacular: dramatic drop-offs and rise-ups, along with underwater caves make Cozumel one of the best marine sights in the world.
How to Get There
Cozumel is located just off the coast of Yucatan and travelling there is easy enough. The tricky part, however, is finding a good reliable diving operator, with plenty of experience in the sometimes-tricky waters of Cozumel.
We recommend Liquid Blue Divers or Aqua Safari (you can find them easily to book diving tours in advance).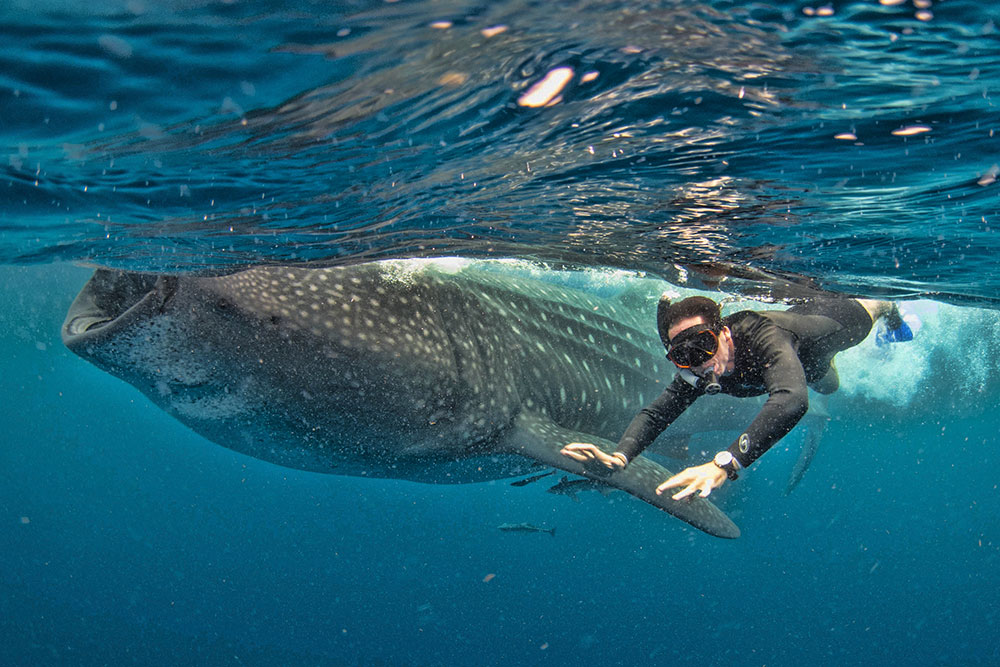 Photo © James Kelley
Wrapping it Up
There are at least 10 other great coral reef tourist sights not included in our list, for reasons of editorial space. The Fiji Islands, Japan, Hawaii and even California and Florida are other popular destinations for admiring beautiful coral reef.
Regardless of where you choose to go, it's important to experience the beauty of reefs at least once, while we may still have the chance.
FASHIONABLE SWIM WEAR THIS SUMMER. CLICK PHOTO ↓
INSPIRED?! PIN THIS TO YOUR TRAVEL PINTEREST BOARDS ↓
If You Liked This Post You May Also Like: