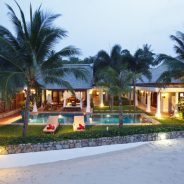 Famed for it's fine white sand beaches and crystal clear waters, Koh Samui has become the most popular destination for a luxury getaway in Thailand, and as such, has become the island with the most stunning beachfront resorts.
Ultra-luxurious properties line the tropical coastline, with infinity pool vistas and direct access to the type of beaches you find featured in ads.
Because the standard of accommodation across Koh Samui is high, it can be tempting to just book any 5 star room. But if you're looking to experience true luxury; private infinity pools, personal chefs and an exclusive section of the beach; you should book a private luxury villa instead. And I believe we've found the most beautiful villa in Thailand; Villa Acacia – one of the 11 incredible villa's in the Miskawaan set.
read more