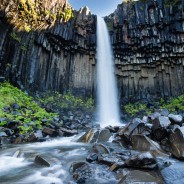 When it comes to things to do in Iceland, Vatnajökull National Park should be at the very top of everyone's list. Covering 13% of Iceland's surface, this is the largest national park in Western Europe, and has a range of outstanding natural wonders which truly capture the interplay between fire and ice.
In this region white glaciers descend to black sands, hot streams erupt from frozen banks of ice, and the park is home to Iceland's highest mountain, (Hvannadalshnúkur), largest glacier (Vatnajökull), and Europe's most powerful waterfall (Dettifoss).
The following are the highlights of Vatnajökull National Park. Most sections of the park are completely inaccessible in winter, closed due to bad weather or lack of transportation. Plan for a trip between July and August to have more options and access to locations throughout the park.
read more