Authored by Lauren Marinigh
Many people visit Toronto and automatically flock to popular tourist destinations like the Royal Ontario Museum and the Art Gallery of Ontario, or make their priorities a ride to the top of the CN tower, and a visit the Eaton Centre for some shopping. These visitors usually end their sightseeing there, and without further exploration leave with the impression that Toronto was nothing special.
Well I'm here to break the news – if you've departed Toronto believing the city is nothing special, you haven't yet discovered what the city is all about. You failed to actually travel here. Your loss!
The following attractions and locations are bound to make you fall in love with Toronto, the top destinations within the city that tourists should be squeezing into their visit for a real taste of what Toronto is all about.
Pro Tip: For cheap accommodation, and great advice on Toronto's best kept secrets, book a room with a local through HomeStay.com. Offering quality and affordability, homestays are a great value accommodation option for people of all ages to experience travel. Every home has a host present and they do more than just hand over keys. They're real people bringing real homestay experiences to life. Check availability.
Distillery District
Located in Toronto's East and easily accessible by public transportation or by foot from the city centre, the Distillery District is lined with fabulous restaurants, cafes and shops, all housed in heritage buildings along pedestrian-only streets.
Cobblestone streets and beautiful historic architecture combines with unique shops and restaurants to make the Distillery District one of the cutest places to spend part of your day.
Those visiting over Christmas are in for a treat – this is the location of Toronto's most popular Christmas Market, running for roughly a month in the lead up to Christmas Day.
Kensington Market
One of the most unique sites in the city of Toronto, Kensington Market is located close to the downtown core and is lined with unique boutique shops, cafes and markets that you won't find anywhere else in the city.
Several vintage and craft shops line the streets of Kensington Market, and diverse restaurants and stores sell everything from baked goods, spices and cheese, to specialty grocers selling those hard-to-find items too.
This is one of the most artsy neighborhoods in the city, and every corner will surprise you with something you've never seen before.
Queen West
Vogue ranked this area as the second coolest neighborhood in the world, next to Tokyo's Shimokitazawa. And if a reference from Vogue doesn't rank as a good enough reason to visit, then I don't know what will!
Queen West is a trendy neighborhood lined with cool bars, restaurants, and stores. Known as Toronto's Fashion District with an extensive assortment of clothing, shoe and fabric stores, Queen West is the perfect spot to channel your inner shopaholic.
But even if you're not looking to shop, the nightlife, bars and patios will be sure to satisfy just about anyone's needs.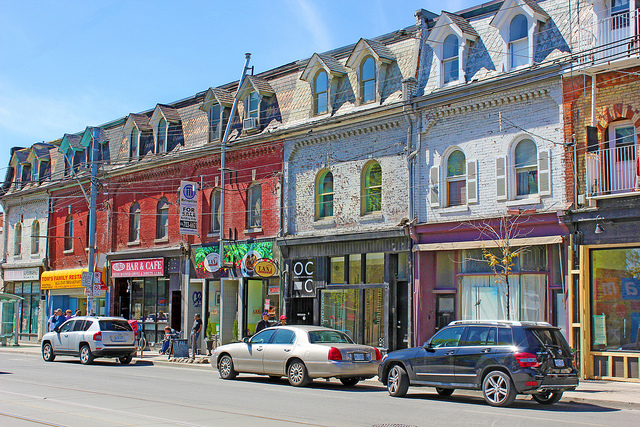 Toronto Island
Often forgotten by visitors from out of town though easily one of the best escapes from the city center, Toronto Island has something to offer everyone, from an amusement park for the kids, to great beaches, kayaking, paddle boarding and biking.
This ultimate outdoor retreat is also home to one of the best views of the city, so if you're looking for a photo opp which is unique, rest assured this will wipe the floor of every other tourist snap you've seen. It cost only $7 CDN for a return ferry ticket to the island and you can bring your own alcohol and food.
Top Tip: You can set off on a cruise and explore Toronto Harbour and the Toronto Islands archipelago! The view of the Toronto skyline from the boat is breathtaking. You can book in here!
University of Toronto (U of T)
Don't think touring university grounds when visiting a city like Toronto sounds silly – the University of Toronto St. George (Downtown) campus is one that shouldn't be missed.
This university was established in 1827, and due to its old age and the gorgeous architectural marvels surrounded by green space and interlocking courtyards, it is worth a visit to walk around the grounds. Another fantastic choice of location for those looking for unique photo opportunities that not too many Toronto tourists take.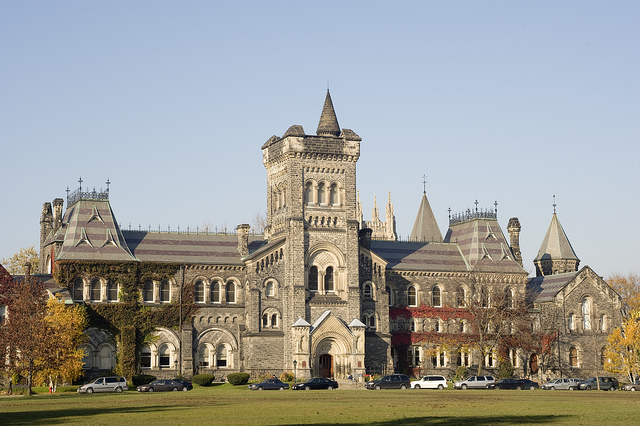 Casa Loma

Originally a home to a financier, Casa Loma is now converted into a Toronto museum and landmark. It was built in 1914 and now is a gorgeous place to pay a visit to when in Toronto.
Casa Loma is less than an hour walk, or short subway ride to get too. This landmark is a site to see, even if you decide not go inside and explore the over 90 rooms in this castle, but if you do, you'll get a great view of the city from just about every set of windows.
Entry to Casa Loma is included in the Toronto CityPass which we highly recommend purchasing for your time in Toronto. This is a 5-in-1 pass which gives you access to the best attractions in the city and is valid for 9 days, giving you plenty of time to visit each attraction at your leisure. As well as offering great value, the pass also saves time by including fast-track tickets for priority entry.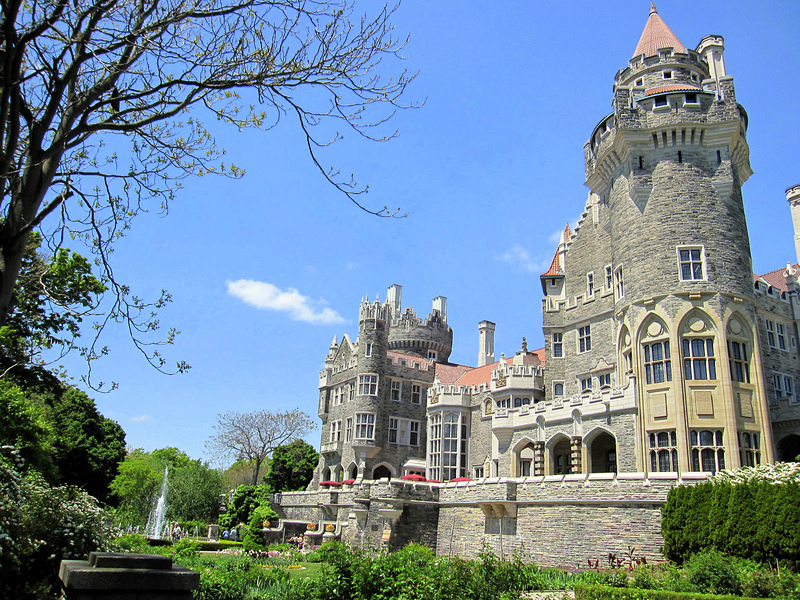 Cultural Neighborhoods
Toronto is ranked as one of the most multicultural cities in the world with over half of its population born outside of Canada!
Due to the diversity of the city, cultural neighborhoods are dotted all throughout, making great shops, markets and restaurants that are unique to each culture easy to find, and making Toronto neighborhoods fairly fabulous to explore. One minute you're in the downtown core, and in an artsy neighborhood or wandering through Chinatown the next.
There is a little bit of everything in Toronto, and to visit without reserving some time to explore these culturally rich neighborhoods would be a shame. Be sure to make time for a visit to Chinatown, Little India, Greektown, and Little Italy while there.
Practical Information
Find the cheapest flights to Toronto by downloading the free Skyscanner app. Click here.
For tickets to attractions, monuments, museums and a Toronto CityPass, find the best deals on things to do in Toronto on Ceetiz – click here to view all discounts now.
INSPIRED? PIN THIS TO YOUR TRAVEL PINTEREST BOARDS ↓
Hear about new posts on Facebook: Please click "like"!
If You Liked This Post You May Also Like:
Photo Credits: Cover photo and Pinterest designs by paul bica. In order of appearance: James Westby, Ryan, Jacob Allen-Jordan, Don Gunn, John Vetterli, Lauren Marinigh, The City of Toronto, InSapphoWeTrust.